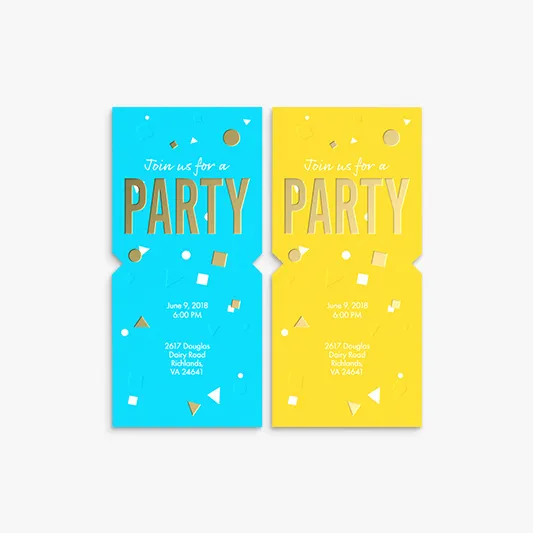 Wedding invitations – the most special of them all
Weddings are one of those occasions when people choose invitations with special care. A wedding invitation must match the colors and the theme of the reception and make a spectacular impression, winning the hearts of the future guests.
Remember that family often treats wedding invitations as mementoes. Kept in an album or a decorative holder, they will be taken out, presented during social meetings and re-opened for anniversaries over and over again, bringing tears of joy. So, make sure they can withstand the flow of time and keep evoking all those emotions.
You can opt for either folded invitations (for example tri-fold invitations or a concertina invites) or single cards put in envelopes. In the online printing shop, you can also decide whether you want a holder and an envelope to go with the invitations.
If you are going for a feather-light, airy look, consider vellum invitations. They have some design elements printed on a translucent sheet. This is definitely an amazing idea for wedding invites.
Before your guests have an opportunity to enjoy themselves on the dance floor at your reception, you can have some fun by designing the invitations. There is nothing stressful about it! Definitely not with the online configurator. It is simply a creative activity with a beautiful conclusion.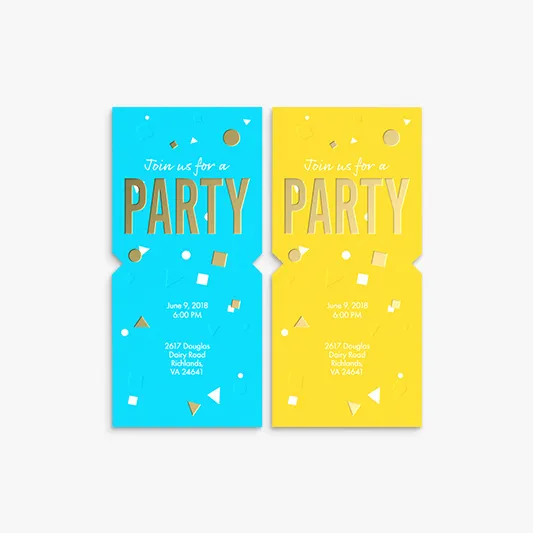 Invitation to a Silver or Gold Anniversary or to a celebration associated with snow-white shades? Print invites enhanced with special finishes
The elegant golden finish will leave no doubt that you are about to celebrate your 50th wedding or relationship anniversary in style. The glimmer of silver will remind your guests that it is the time to meet and toast spouses or partners who have spent a quarter of a decade together. The golden and silver motifs will be just as suitable for a wedding as for First Communion invites.
Other noteworthy types of invitation finishes are:
gloss or matte film
Soft Skin film to make your invitations particularly pleasant, velvety to the touch
selective UV 3D varnish to cover only some elements of the invite for a unique effect