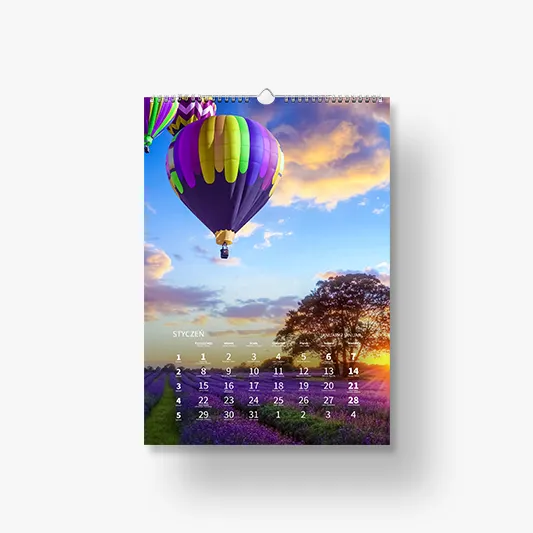 The Chroma.pl online printing shop offers you a number of formats to choose from for your custom calendars:
A4 – 210 x 297 mm
A3 – 297 x 420 mm
A2 – 420 x 594 mm
B4 – 236 x 336 mm
B3 – 336 x 480 mm
B2 – 480 x 680 mm
310 x 325 mm
310 x 650 mm
210 x 210 mm
Choose the desired format.
Now decide if you want your custom calendar to consist of 6 or 12 sheets – whether you want every month on a separate sheet (you then choose the one-sided color print) or if you want the print on both sides, with the calendar to be rotated after six months. The latter option is more cost-effective but does not always meet the aesthetic requirements of the design.
For spiral-bound calendars, you have three paper grammages to choose from: 170 g, 250 g and 300 g. In any case, this is art paper, but you need to pick between matte and gloss. This choice depends on the nature of the design. Picture colors may look more vivid and shiny on glossy paper, but this might not be a good solution for artistic illustrations. They benefit from matte paper, which gives them character and prestige.
Depending on the type of paper, choose the finish for your custom calendar. First read about the finish types on the configurator page to prevent a situation where modifications need to be made after the design is ready and the cost has been estimated because the selected finish is not possible for the desired grammage and type of paper.
Before you make the decision about varnishes or other print enhancement methods, think about the cover. Do you want a back cover too or is the front one enough? Do you want the color on both sides of the cover or only on one? When it comes to art paper, you can choose between matt and gloss with a grammage 250 g or 300 g.
Spiral wire is an indispensable element of the calendar. It can be silver, gold, black or white, along either the long side or the short side, depending on the orientation of your custom calendar.
As you create your own calendar on the configurator page, you can also decide whether you want a cardboard underlay and choose the type of calendar pages to be used. For a wide range of calendar pages for spiral-bound calendars, go to Kalendaria.