PayU
Electronic funds transfer
—the most popular method of payment on the market. After having selected the bank with whom the account is held, the customer is transferred to the online banking site to make the payment. The data in the form are filled in automatically, which allows avoiding any errors. Payment via a fast electronic transfer is carried out immediately. Payment information sent directly to the system allows automatic marking of an order as 'paid'.
In the case your bank is absent from the list of available banks, you should select the "Traditional transfer" icon which always results in longer order processing, and requires you to send an email with the confirmation of the transfer to
przelewybankowe@chroma.pl
Credit or debit card—PayU enables paying for the order using the same cards (credit and debit) that you can use in brick and mortar stores.
PayU Installments—an exclusively online installment payment system, without leaving home and without a courier. Thanks to the transparent process of verifying the application for payment in installments, the credit decision is really quick. Immediately after it has been received, the PayU system sends us confirmation of payment for your order, thanks to which short deadlines may be met. The installments are paid in accordance with the schedule provided by the lender who cooperates with PayU. Installment buying is a normal payment method that does not block your funds.
PayU Payment Link—a new payment method offered by a trusted operator PayU that brings convenience in paying for orders to a completely new level. When selecting this payment method, one is asked to provide the email address of a person to whom the message should be sent with a request to pay for products in the cart. With just a few clicks, the indicated person (e.g. an accountant or your boss) will be able to finalize the purchase. It is a secure and fully automated payment method.
VISA
Credit card payment—Payment by credit card enables immediate processing of the order. The account is debited on shipping. It's a simple and reliable form of online payment.
PayPal
When using PayPal, you can pay for your order using a credit card or PayPal account balance, which can be credited with transfers from your bank account or another PayPal account. This system works on the principle of an e-wallet. It's very secure, because one pays for their order using their PayPal password, without providing any financial information.
Tpay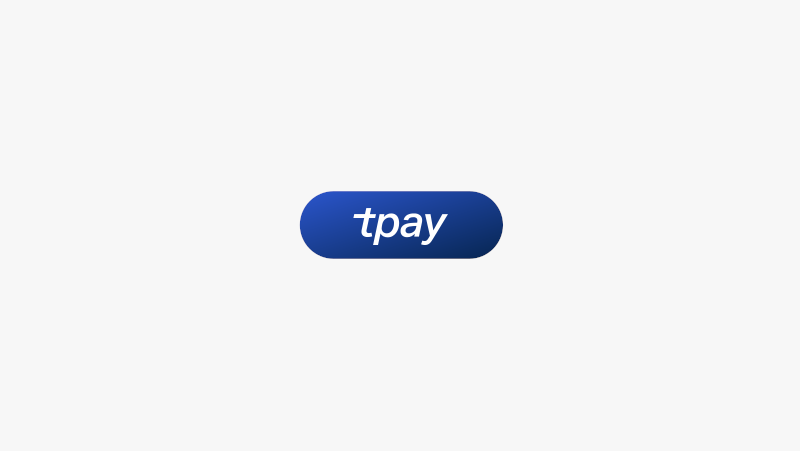 Tpay is a popular and well-known payment method - quicker and easier than traditional transfers. It works with the biggest banks in Poland and therefore guarantees safe and comfortable shopping. Apart from Pay-by-link, you can also use methods such as BLIK, Google Pay, Click and pay with Visa or Masterpass. After choosing the payment method that is right for you, you will receive a confirmation of the transaction to the email address you provided in your account settings. You will receive a payment confirmation email once the payment is made.
Cash on delivery (not available for large format products)
Payment is made on the shipment's delivery. This payment method is available only for orders outside the large format product group with a total value of up to PLN 5000 gross. In the case of ordering a large-format product ior the sum of orders in the waiting room exceeding 5000 PLN, the possibility of using the cash on delivery option will be blocked. One should then make an online transfer or inquire a pro-forma invoice.