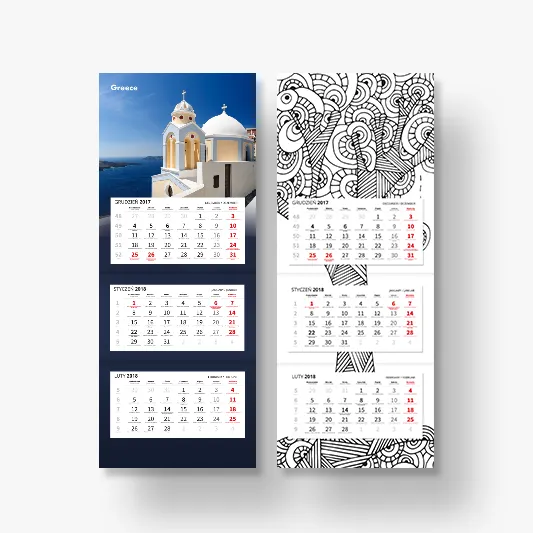 Calendar pages
Calendar pages – an indispensable planning tool
A three-month reference calendar is based on 300 g cardboard, and the top panel is 300 g art paper. The calendar is printed on one side. When it comes to calendar pages, the Chroma.pl online printing shop offers four versions:
3 white blocks
3 grey blocks
2 white, 1 grey block
2 grey, 1 white block
Whether in three- or one-month reference calendars, the calendar pages play an important role – they must provide space for notes and be clearly visible. Make your own calendar using sample designs of 2021 calendar pages on Chroma.pl.
The choice must match the designer's idea, and especially the artwork on the top panel. Another decision to make for your custom calendar is the date window – it can be a red, green, blue or black window.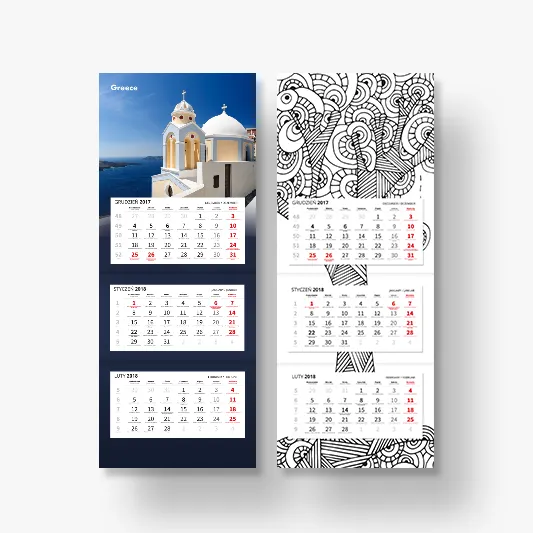 Top panel finishing
Top panel finishing for three-month reference calendars
If you are planning custom calendars that are to serve primarily practical functions, consider three- or one-month reference calendars. They provide space for company information – map, address and contact details. This way, the calendar functions as a business card too. It is, of course, a good idea to embellish it with unique professional artwork in order to also activate the image-building aspect of communication through this marketing tool.
In the top panel of a three-month reference calendar, there is space for artwork, which should speak as much about your company as possible. You can approach it artistically, to make it visually appealing, remembering to leave some space for company details, phone and e-mail to Customer Service or New Business. Such details have an advantage over a business card because they are displayed in a special place in the room rather than stuck into a holder. People do not have to look for them. Just remember that they should be discreet rather than forceful, serving as background for the visual design. When the client needs them, they will know where to find them.
Print your custom calendar using one of the finishing options available in the product configurator. Choose between matte and gloss film coating. If you want to bring out certain graphic elements of the design with selective UV varnish, pick matte film.