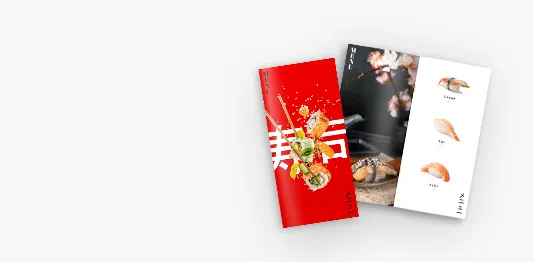 Saddle-stitched menu card
Choosing pictures and colors for a menu-type catalog
Pictures of meals must be adapted to the nature of the brand and the market segment in which it operates. For example, many customers associate large bright pictures next to dish descriptions with chain restaurants, fast foods and lower-class bars. Better establishments often have descriptions only. This way, they allow a customer who reads a saddle-stitched menu card to use their imagination.
This is not an ironclad rule, though. Sometimes top restaurant chains also have pictures in their menus. But if they do, the pictures are subtle and of top quality. A company who does not have such photos may consider artworks and illustrations. They tend to emphasize the nature of the place very well.
Colors of menu-type catalogs have the same function. Fresh and intense colors, like green, red or yellow, are suitable for a Mexican restaurant but not necessarily for an elegant evening club, which should opt for darker, silver or purple hues.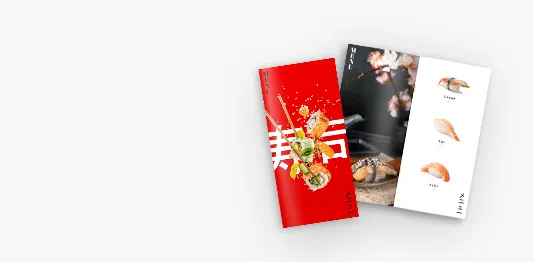 Saddle-stitched menu card
What do customers really check in the menus?
From a psychological point of view, customers use saddle-stitched menu cards not only to check what they feel like having and how much it costs. They also subconsciously compare products. People are unable to determine the absolute value of the complex product that is a restaurant dish. Its price includes the cost of the goods, the cook's labor, lease of the premises, and electricity.
So when a restaurant guest is reading a menu-type catalog, they are evaluating particular dishes by subconsciously comparing them to one another – it is a type of simplified psychological reasoning. The most expensive items on the menu are rarely ordered, but they have an important role. They make the other ones look cheaper. In other words, expensive menu items anchor our perception at high prices.
The font to be chosen also depends on the number of items on a saddle-stitched menu card. The more text, the harder it is to arrange it on the page. If more than one font is used, the customer may find it easier to navigate the menu.
Boxes with certain dishes may also be convenient. They could group, for example, dishes made of similar ingredients or dishes with the highest margin.